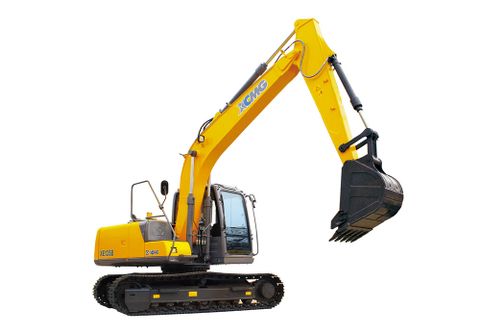 XCMG XE135B Excavator
XCMG XE135B featuring high efficiency and energy conservation, is mainly used for earth working conditions. The powerful lsuzu BB-4BG1TRP engine and high-end Kawasaki hydraulic system are matched perfectly, which can guarantee the product reliability and define hgh-efficiency operation and fuel economy. With strengthened structural parts, it is applicable for earth working, road construction and municipal engineering, and allow you to get digging and loading operations done easily.
1. Environmentally friendly and energy saving
* Customized high-power engine is more powerful,
* Adopting XCMG's proprietary matching technology to achieve higher operational efficiency and lower fuel consumption.
* Minimized impact on emission systems and make it more environmentally friendly.
2. Multiple applications
* Different boom, arm, and bucket combinations can provide excellent all-around versatility.
*Multi-functional work tool system can meet various operational requirements including digging, breaking, and so on.
3. Comfortable operating experience
* Air conditioner and heater ensure the appropriate temperature.
* Rear camera and right camera provide a better view.
* Air-suspension seat equipped with electric heating function.
* Integrated control panel and large display screen provide multiple information.